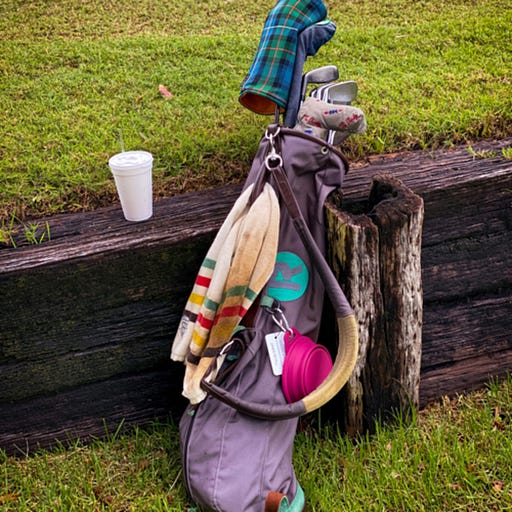 Feb 1, 2021 • 1HR 6M
D.J. Piehowski - Producer, No Laying Up
Hi, my name is Jay Revell and golf is a massive part of my life. Lately, I've begun to worry that it might consume too much of it. With a young family, a startup media business, and a scratch handicap, I explore what it means to be addicted to golf in the modern world. On the show, I dive into the good, bad, ugly, and glorious in conversations with folks battling to find a balance between golf, life, and everything in between. Join me for conversations with some of golf's most interesting folks as we discuss just how much the game means to us all. Welcome to Mid-Am Crisis.
D.J. Piehowski is part of the No Laying Up collective. Along with his friends and partners Chris Solomon(Soly), Todd Schuster(Tron Carter), Neil Schuster, and Phil Landes(Big Randy), they have created one of the most entertaining and informative golf media companies in the game today. Although D.J. was the last to officially join the team, he acts as a sort of creative glue that helps to elevate their content through his superb storytelling abilities. D.J. cut his teeth in golf media working first at Golfweek and later at the PGA Tour. Through his writing and other skillsets he also helped The Golfer's Journal become an incredibly popular brand in the golf world. Through the latter engagements, he made quick friends with the original No Laying Up guys and before long found himself as an integral part of their team. D.J. brings a unique perspective to their content and his affinity for finding the right strings to pull during interviews adds an interesting depth to their productions. His love of filmmaking and study of cinema shows through in nearly every video they share across their Youtube channel. I first connected with D.J. a few years ago when he was kind enough to read some of my earliest writings(they weren't very good!) on the game and the tips he was nice enough to give me then still help shape my work today. We recently spent some time together when he, Neil, and Big Randy visited my hometown of Tallahassee, Florida to shoot a season of their budget-friendly golf show called Strapped. As much as I enjoyed watching them create their show in person, it was even more fun to talk with him about the work they do at No Laying Up during this discussion. D.J. is one of the great voices in the game of golf today and he brings tremendous authenticity to every story he tells. If you enjoy their work or just love hearing from someone who's chasing a dream with friends I think you'll really like listening to our chat. Lord knows it had me ready to go tell some stories of my own.
You can dive into the No Laying Up universe of golf content at https://nolayingup.com/
For more of my golf writing and other related content, please be sure to check out my site at https://jayrevell.com/
If you enjoy listening to Mid-Am Crisis I hope you'll leave a review for the show and help spread the word by sharing with friends.
Cheers, -J
Mid-Am Crisis is a production of Revell Media, LLC