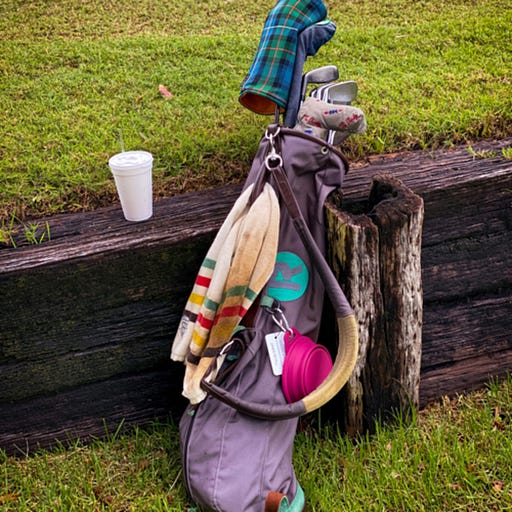 Oct 13, 2020 • 1HR 3M
Matthew Galloway, LPGA Tour Caddie
Hi, my name is Jay Revell and golf is a massive part of my life. Lately, I've begun to worry that it might consume too much of it. With a young family, a startup media business, and a scratch handicap, I explore what it means to be addicted to golf in the modern world. On the show, I dive into the good, bad, ugly, and glorious in conversations with folks battling to find a balance between golf, life, and everything in between. Join me for conversations with some of golf's most interesting folks as we discuss just how much the game means to us all. Welcome to Mid-Am Crisis.
One of my favorite people I've met through golf in recent years is Matthew Galloway. He's among the top caddies on the LPGA Tour and a hell of a good golfer himself. Galloway is a recovering mini-tour player who traded his playing dreams for success with a caddie bib. Before turning pro, he won the Florida Amateur Championship and was a three-time Division II All-American at the University of West Florida(He was recently inducted into the UWF Hall of Fame). Galloway also had a few minutes of stardom when he appeared on the Golf Channel's Big Break Mexico. After retiring from the mini-tour scene, he took a chance and started caddying on the LPGA Tour. He's been at it ever since and has carried the bag for players like Michelle Wie and Angel Yin. I've been lucky to cross paths with him a few times including most recently when he looped for me at Streamsong Resort during the LPGA's pandemic break. In this episode, Galloway joins me for a conversation as he comes off the road for the upcoming birth of his daughter. We talked about the approachable vibe of LPGA Tour, his recent trip to Bandon Dunes, golf in the Sunshine State, and of course what he's feeling like as an expectant father. If you don't know of Matthew Galloway, hopefully, this chat will change that. I'm thrilled we got a chance to catch up and will be hoping that his paternity leave from tour life means we can meet up for some golf soon!
Find Matthew Gallow on Twitter @matthewgalloway
For more podcast episodes be sure to check out www.midamcrisis.com
If you'd like to dive into my book, The Nine Virtues of Golf or my other writings on the game be sure to visit www.jayrevell.com
Cheers!
-J